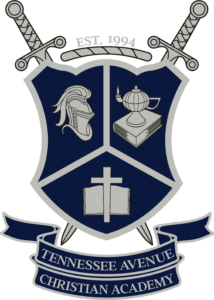 HOME OF THE CRUSADERS
TACA is a private, Christ-centered K-12 college preparatory school. We are centrally located in Bristol, Tennessee, with convenient access from other communities in the Tri-Cities area.
TACA is committed to achieving excellence in Academics and Spiritual Growth. Students in Kindergarten – 12th grade receive Biblical instruction each day and attend Chapel every Wednesday.
Academics
Students are taught using the Christian based Bob Jones curriculum, with the exception of Handwriting in K5-3rd Grades, Math in the middle and high school, and Chemistry in high school. The middle and high schools use Houghton Mifflin math curriculum. Our academic curriculum is supplemented with Bible classes, enrichment courses, and extracurricular activities.
Our school has embraced new and innovative technology for each grade. Students third grade and up have access to a computer

lab, where they learn computer keyboarding on an age appropriate level.
Dual Enrollment
Tennessee Avenue Christian Academy participates in dual enrollment classes with King University, Bryan College and Northeast State Community College, where our students can receive both high school and college credit for qualifying coursework. Also, students who are Tennessee residents can qualify for dual enrollment grant funds, which help pay the cost of the college classes.
We also participate in Tennessee Promise, with an on-site mentor. We offer ACT prep classes for our juniors and seniors.
We are proud to say that our graduates move on to the colleges of their choice and become successful members of the workforce.
Affiliations
Tennessee Avenue Christian Academy is a member of the Tennessee Association of Christian Schools (TACS). TACS is a Christian school organization that serves member schools in Tennessee and Kentucky. Membership is based on acceptance of the Association's statement of faith and the establishment of educational practice common to schools of excellence.
Athletics
Tennessee Avenue Christian Academy offers a variety of sports for our students, beginning in grade 5. Our teams compete with teams from the Tri-Cities area and surrounding regions.
Our sports include Lady Crusader volleyball, basketball, and cross country, Crusader basketball, and Crusader cross country. We also share a partnership with Bristol Soccer Association.
For more information about Crusader athletics, contact Tennessee Avenue's athletic director Michele Steadman at tacacrusaders@gmail.com.
Ministry Opportunities
The Forward Drama Team is a ministry outreach of Tennessee Avenue Christian Academy. This extra-curricular team is open to Academy students in 9th-12th grades. Forward strives to share the Gospel in unique and creative ways – lifting Jesus so that all may be drawn to Him. The ministry

includes drama, interpretive movement, creative writing, art design, and musical expression. Formal auditions are held each fall and the team serves throughout the school year.
Tuition
We have exceptionally low tuition per school year, and half-day programs are available at reduced rates for K4 and Kindergarten. Before and After-school care are also available.
School Motto
We the students and faculty of Tennessee Avenue Christian Academy do hereby pledge:
Whatever things are
True, Noble, Just, Pure, Lovely, of Good Testimony, Whatever things are of Moral Excellence and
Whatever things are Worthy of Praise
WE WILL THINK ON THESE THINGS.
(A paraphrase of
Philippians 4:8)
For more information, contact the Academy Office at 423-989-4346.